If you have been looking for a meat free alternative for steak then you probably have come across the "cauliflower" steak.  Have you ever considered a Bread Steak? We hadn't really either until we came across this article by David Tamarkin.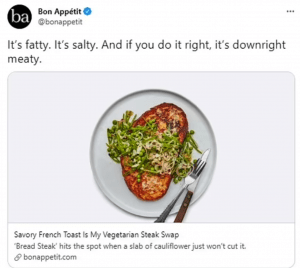 While the internet may be divided on this, we love it. It's simple, it's affordable and it gives that meaty, satisfying feeling. We are not saying it is the perfect identical replacement for steak but it is a handy, tasty one.
We are just mad we didn't think of it ourselves.  Make your French toast savoury and you might just find the perfect, hassle-free alternative you've been looking for. 
Davids Method:

To make it, I start by whisking together 2 large eggs, ¾ cup of whole milk, and ½ teaspoon of salt in a bowl. Then, I lay 2¾-inch-thick slices of crusty sourdough bread in a shallow baking dish and pour the custard mixture over the bread. I'll let the bread soak for around 10 minutes, turning the slices once or twice. Then, I'll get a large nonstick or cast-iron skillet going over medium heat and turn on the broiler. I hit the pan with a drizzle of oil, lift the bread out of the baking dish and let any excess custard drip off, and carefully lay the slices into the pan and cook on both sides until golden brown, about 3 minutes per side. Then I'll shower the top sides of the slices with a good bit of grated Parmesan and a sprinkling of sugar, and then slide the skillet under the broiler until the cheese is browned and the slices are super crisp, about 2–3 minutes more. And voilà: Bread Steaks!

A thick piece of this savory French toast can be eaten on its own for a snack, but if this is dinner, I pile it high with raw vegetables. Garlicky marinated tomatoes and fat dollops of creamy ricotta. Sliced snap peas and quick-pickled shallots tossed with just enough good olive oil to make it slick. A tangle of raw zucchini dressed with lime juice and chile crisp.